Measurement data acquisition and exact determination of overflow and flow rates in the application areas partial and full filling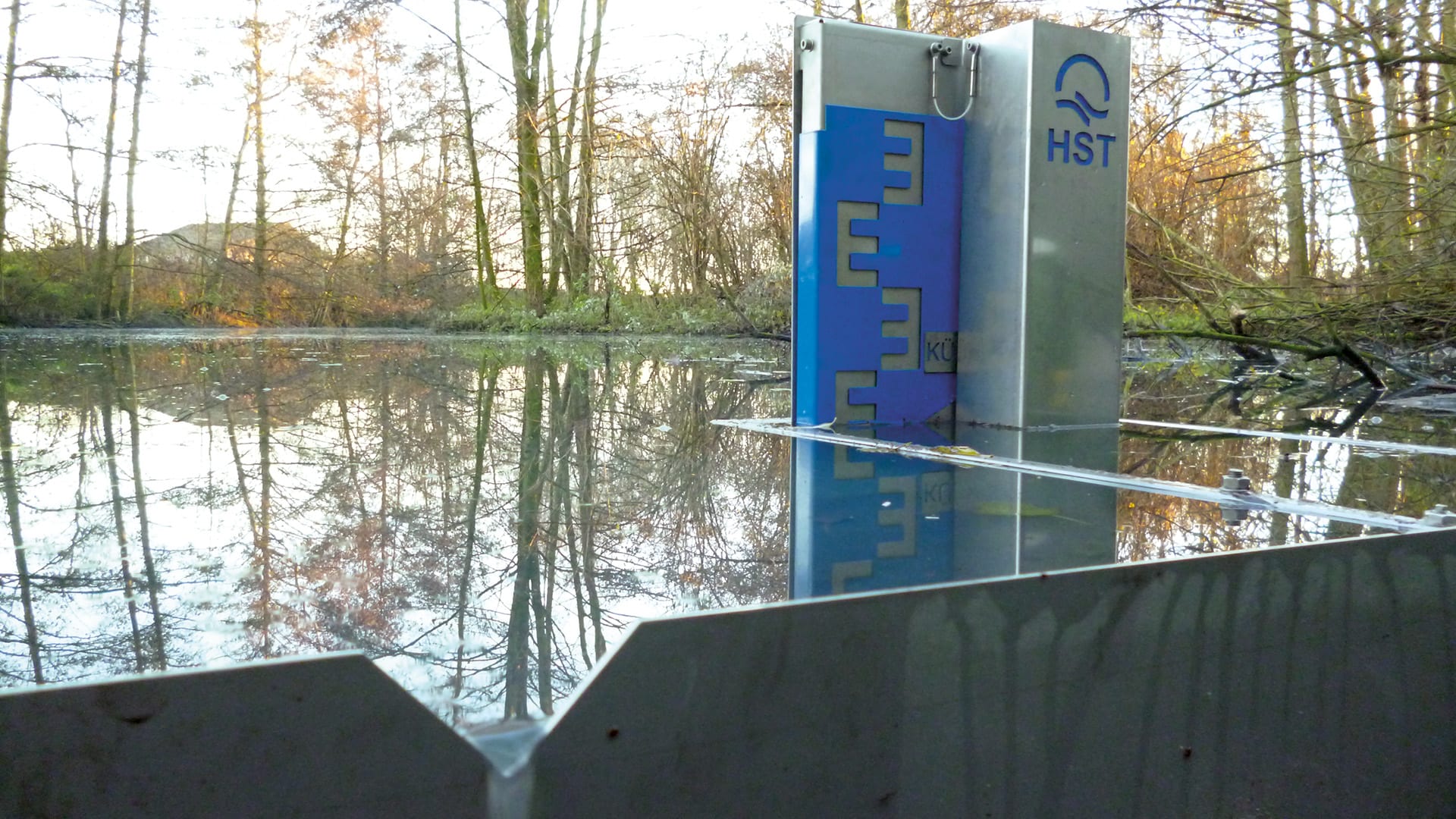 The EMA (electronic volume evaluation) system offers an optimal solution for precise collection and evaluation of overflow quantities, which are relieved via weir thresholds. The EMA system consists of the following components:
EMA panel variable mechanical construction with E-scale optics for recording, protection and precise adjustment of the sensors
EMA sensors high-precision, continuous measurement recording and additional level set-points for calibrating
EMA controller high-resolution collection and archiving of measuring data per the Delta-Event process with verification and calibration functions
EMA evaluation operator-friendly data evaluation with graphic analysis tools and logging based on Microsoft Excel
EMA measuring profile structured measuring profile to equalise structural height differences and for precision improvement.
Calibration and reference points via digital height benchmarks
Maintenance-friendly access and precise adjustment of the sensors.
Very precise measurement of the flood height
Long term archiving of raw and calculated values e.g. on a CF card.
High level of precision due to structured measuring profile.
Operator friendly evaluation.
Reporting system based on Excel in accordance with the official specifications.
Automatic sending of reports in PDF format
Alarm function
EMA-Panel (Basic component)
Possible to assemble the sensor from the top
Locks in after service (position and reference height
the reference sensor remains unchanged)
Optical display and adjustment:
Optical display of relevant reference heights e.g. the upper edge of the weir threshold above an e-scaling with freely adjustable displays
Simple mechanical alignment and at the same time the exact adjustment of the height reference point for permanent calibration
High-resolution measurement of basic quantities, e.g. Level via hydrostatic probe / or radar measurement error: max. 1 mm / 2 mm
An exact reference value for calibration, e.g. Level limit value via capacitive measuring probe
assured switching distance: < 1 mm
Approval for use in EX-protection zones
To improve accuracy
To compensate for structural height differences at the overflow edge
For the structure of the cross-sectional or flow-through profile
High-resolution data acquisition
Capture reference signal
Review readings
Preparation of measured values
Archiving according to delta event procedure
Direct data transmission (e.g. GPRS)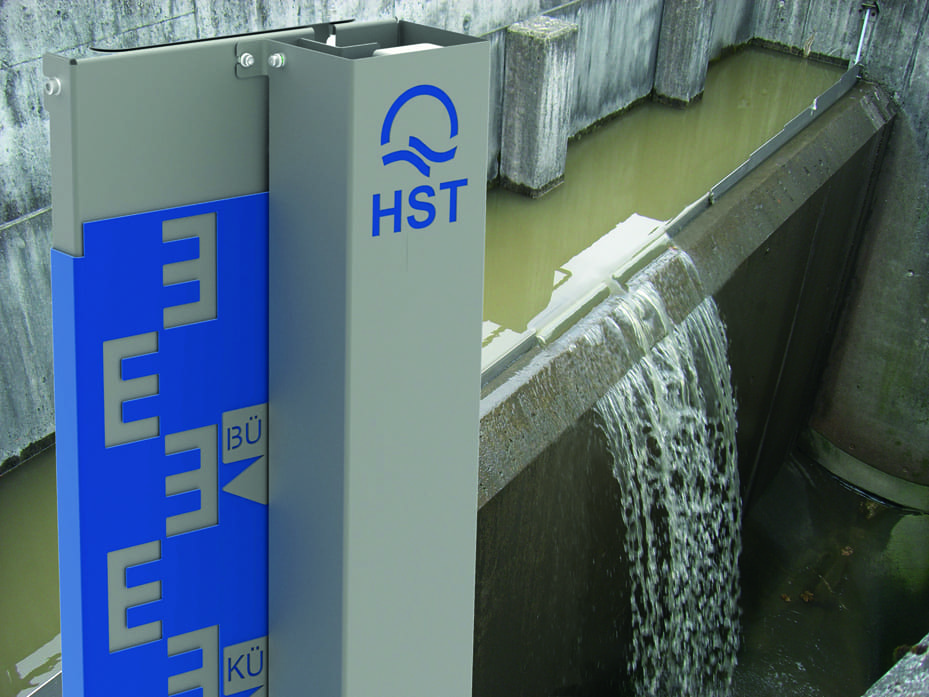 The HST EMA system is the optimal solution for high-precision determination and evaluation of overflow or discharge rates at fixed weir thresholds, movable valves / weirs and in relief lines, as well as for flow or discharge rate measurement in channels and piping in the application areas partial and full filling. The HST EMA modular system offers the right system components for every task.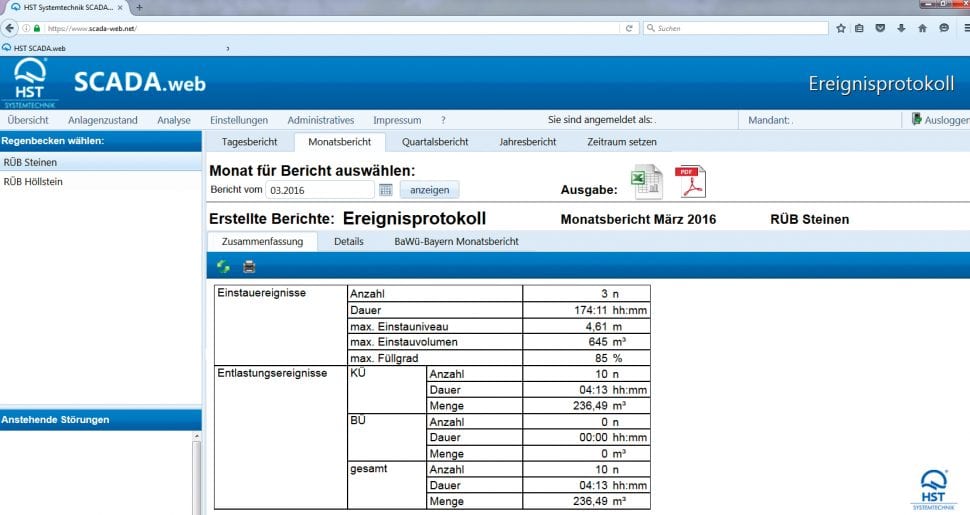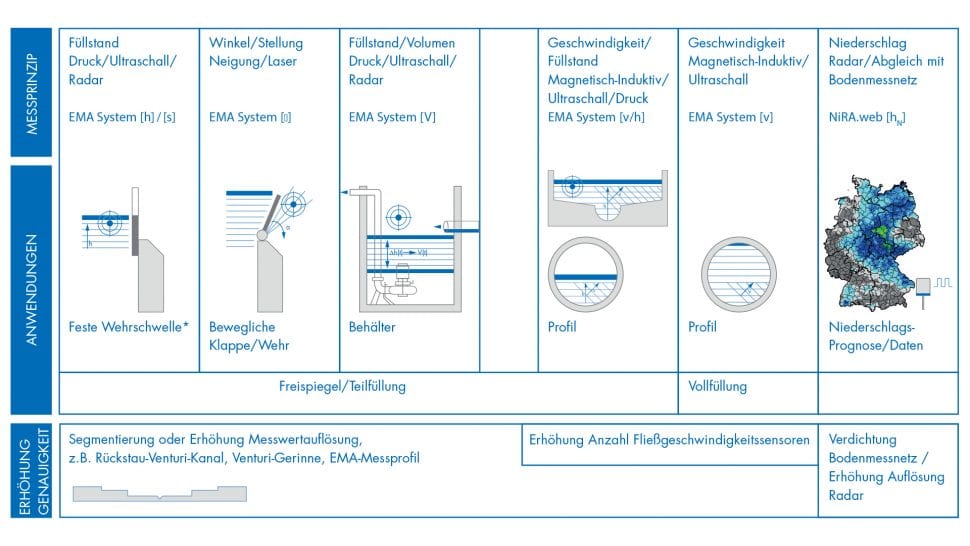 Hamburg Airport GmbH
Flow measurement surface and rainwater, here combination flow measurement in open channels and overflow measurement at fixed weir threshold
Municipal utilities Bochum discharge quantity measurement in special structures in the sewage network on fixed weirs, flaps and in discharge channels
Economics Business Hagen discharge quantity measurement in special structures in the sewage network at fixed weir barriers, too, part under difficult hydraulic conditions (long threshold with non-linear flow behavior)
Municipality of Neuhausen ob Eck
Drain and relief flow measurement Wastewater treatment plant and drainage measurement Retention soil filter system
City council Metzingen / Disposal business Remscheider / Lengerich city / Local community Ebhausen / Geseke city / Babenhausen market / Unna public utilities
Relief volume measurements in special structures in the sewer system on fixed weir sleepers with high accuracy through the additional use of articulated measuring profiles
Watervision - Know-how...

Measurement and logging of accumulation and discharge events with SensoMatic-EMA

We have summarized important information on the topic of measuring and logging congestion and relief events as a guide for you.
We would be pleased to inform you about the various applications, measuring principles and expansion options, also for increasing the accuracy as well as the automatic calibration of the EMA system.
On request, you will receive the printed copy by mail or via e-mail as an e-paper.